At the beginning of April, Microsoft finally fixed their spam filter issue that had been sending us all to the junk folders of their users of MS-Hosted Exchange, which was a lot of people.  Since this has been cleared up and things seem to be running pretty smoothly, we feel it's now time to do the SmarterMail upgrade to their latest release.  The new version has many security and performance improvements and a new look, so we thought we'd post some screen shots so anyone who wants to can take a look ahead of time.  Click the thumbnails for larger images.
The upgrade will begin around 10:30 PM this Friday evening, May 21 and should take about 1 to 2 hours to complete.  During the upgrade process, email will not be available either through client apps like MS Outlook or through webmail.  Once the upgrade is complete, you should again be able to access your email with apps like MS Outlook and through webmail.
---
New User Interface
Your new webmail login screen will look like this.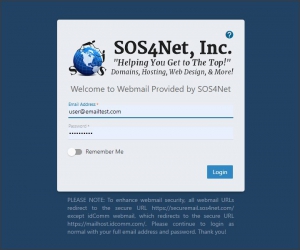 After logging in, you may see a Getting Started screen.  You can choose a light or dark theme; time zone should already be set to Mountain Time and country to United States; zip code is not necessary but you can enter it if  you wish.  Recovery Email Address is optional but may help if you forget your password.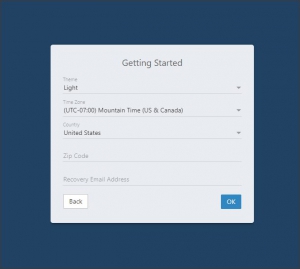 When ready click OK to proceed to your inbox.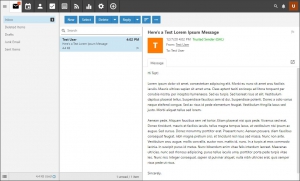 The folder list, message list, and reading pane are laid out very much like the current interface.  The main difference you'll notice is that instead of being aligned vertically along the left edge of the webmail window, the control icons are laid out horizontally across the top.  From left to right you have…
Show/Hide the folder list (the 3 horizontal lines or the menu hamburger)
Email
Calendar
Contacts
Tasks
Notes
News Feeds
Reports
Settings
New (message, appointment, contact, etc.)
Above the message list you have the different action buttons.
New (i.e. new message)
Select – This button replaces the selection checkboxes that each message used to have.  To select multiple messages now, you can…

Click this button, click it again for the drop down, then click Select All.
Click this button, then click each individual item you want to select.   This allows you to select multiple non-adjacent items.
Not click this button, and press and hold the Control key on your keyboard while you click each item you want to select.  This allows you to select multiple non-adjacent items.
Not click this button, click on one item, then press the Shift key while you click on another item.  This will select the first item you clicked on, the second item you clicked on, and all items in between.  This is handy for selecting larger chunks but not all items in the list.

Delete (same as current)
Reply (Reply individual, Reply to All, or Forward)
Sorting (3 uneven horizontal lines)
More Actions (the 3 dots)
And just so you'll have an idea of what dark mode looks like, here's an example.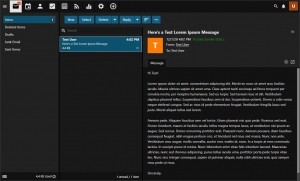 Below are what we think will be the two most commonly used settings screens.
Account settings…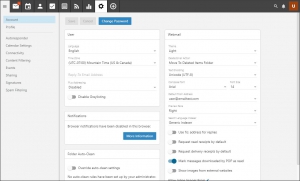 The Account tab is where you would change your password, set a Reply-To address, and disable/enable Greylisting as well as select light or dark theme and set your default delete action.
Spam Filtering…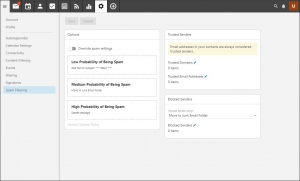 The Spam Filtering tab is where you'll find your Trusted Senders list, which now is separated into a Trusted Domains list and a Trusted Email Addresses list.
Again these are what we feel will be the most commonly used screens.  Naturally if you have questions once you've started using the new SmarterMail interface, please feel free to shoot us email to techsupport@sos4net.com or give us a call at 303-796-3000.
Thank you, and enjoy!
Sincerely,
Scott & Susie