Windows 10 Upgrade
Don't Use Express Settings!
Some of you may have already have experienced this:  You go to bed one night with your machine happily running Windows 7 (or 8), and when you wake up, it doesn't look the same as it did last night.  Well that's because Microsoft has decided to literally force Windows 10 on us.  For those of you in that situation, we highly recommend checking our page on Windows 10 privacy issues and how to alleviate them as well as our Windows 10 start menu page.  For anyone else, like us, who's been waiting on Microsoft to release a service pack, it looks like it's not going to happen, and we're down to the wire now.  This Friday, July 29, is the last day  you can get Windows 10 for free.  So for anyone who's just been waiting but otherwise is ready to upgrade, here are basic instructions and screen shots.
PLEASE NOTE that, while we did the best we could, your screens may not coincide exactly with these screen shots, sorry.
WE RECOMMEND doing a full, system image backup of your machine prior to doing the upgrade.  Microsoft provides the ability to roll back to your previous Windows version within the first 30 days of the upgrade.  However if anything goes wrong during the upgrade (a power outage perhaps, your machine accidentally gets unplugged, it crashes for some unknown reason, etc.) a full system backup could come in handy.
PLEASE BE AWARE that, due to the differences in hardware and software among machines, not all machines will be able to upgrade to Windows 10.  The first part of the process is a system analysis that should tell you if any of your hardware or software is incompatible with Windows 10.  If the issue is hardware, I don't believe the upgrade process will allow you to proceed.  Incompatible software could be uninstalled or perhaps upgraded, but you will have to decide for your unique situation if incompatible software is a deal breaker.  It is your responsibility to make sure that any mission critical software will run under Windows 10 before proceeding with the upgrade.
So if you see a screen similar to this at some point…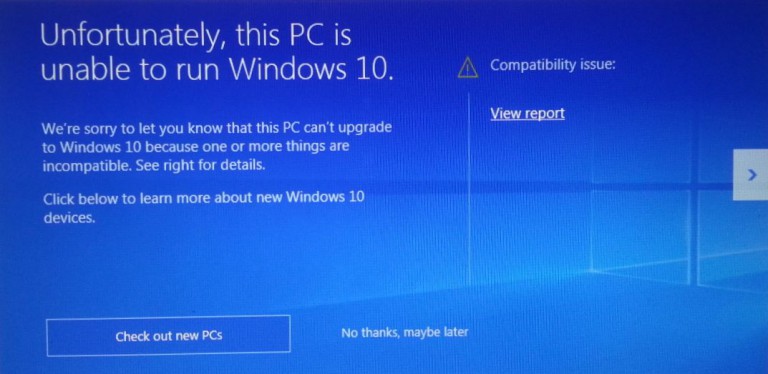 …make sure to click the View Report link to see what's causing the compatibility issue.
There are a couple of ways to start the upgrade process.  You can click the Get Windows 10 icon toward the bottom right of your screen near the time and date, right click it and select Get Windows 10, or you can go to the Windows 10 download page in a browser.  We recommend using the Get Windows 10 icon as this already should have installed the correct (32 or 64-bit) download tool.
Depending upon which route you take your first screens may differ.  One of the early screens may ask what you want to do.  If so select Upgrade this PC now, and click Next.
You may see license terms.  You'll need to accept the terms to continue.
You may be asked to choose what to keep.  We recommend keeping both personal files and apps (i.e. programs).
You may get a confirmation screen similar to the following.  If so, select Install to install Windows 10.
Now the actual install should begin.  Note that your computer probably will reboot a time or two during the process.  It can take a while as files have to be copied in addition to a number of other operations in preparation for the initial Windows 10 startup.  There should be progress indicators at the bottom of your screen.  After Windows 10 is installed, you'll need to make some selections for settings concerning privacy, updates, default programs among other things.  So at some point you should see a screen like the one below.  If more than one profile appears, select one with administrative privileges and click Next.
On the Get Going Fast screen, you will NOT want to use the Express settings.  Instead click the small Customize settings link toward the bottom left.
For privacy reasons, most of the items on the Customize settings screens will be turned Off.  So on the Personalization and Location screen below, click all the switches to turn them Off.  PLEASE NOTE that you may need to scroll down a bit to turn off Location.  When you're done here click Next.
Turn off all the Connectivity and error reporting switches.
On the Browser, protection, and update screen, leave SmartScreen on and turn the other two off.
Unfortunately I'm not sure which of these last two screens comes first. :-(   On the New apps for the new Windows screen, if you want to keep your current default programs for pictures, music, videos, and web browser, click the link to Let me choose my default apps toward the bottom left.  Otherwise Windows 10 will set its own default apps.  After clicking, uncheck all four items, then click Next.
On the Meet Cortanna screen, click the small Not now link toward the bottom left, especially if you don't use a microphone at all.
I believe that's it.  Your computer should now go to the pre-login screen, at least that's what we're calling it.  Just click it or press any key to show the login screen itself.  There's apparently a timer though, so if you wait too long before logging in, or you'll find yourself back at the pre-login screen.
Once at the login screen, if you have only one Windows profile on the machine, you'll see it in the middle of the screen.  If you don't use a password, you'll just need to click the Sign In button under the profile picture.  If there's more than one profile, the last one used will be in the middle of the screen, and all will be listed toward the bottom left of the screen, roughly in the outlined area below.